This entry doesn't exist in English.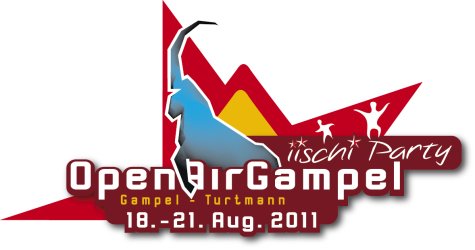 Der Festivalsommer geht langsam aber sicher zu Ende – das bedeutet, dass man (zumindest als Konzertjunkie) so ungefähr alle Bands, die im aktuellen Sommer auf Festivals unterwegs sind, schon mindestens einmal live erlebt hat. Im Allgemeinen ähneln sich die Line-Ups der verschiedenen Festivals doch sehr; und auch wenn es durchaus gute Seiten hat, seine Lieblingsbands immer wieder auf unterschiedlichen Festivals bewundern zu können – irgendwann nutzt es sich ab und man möchte auch mal was Neues sehen.
Und dann ist da das Open Air Gampel. Mit einem Line-Up, bei dem man zuerst mal überlegt, ob man im falschen Jahr gelandet ist – denn die Bands wirken so gar nicht "bekannt" für dieses Jahr. Allein die Headliner: Die Chemical Brothers, The Offspring und Seeed spielen zwar allesamt noch andere Konzerte, drängen sich aber nicht auf, indem sie – wie viele Headliner sonst – sowieso gerade überall unterwegs sind; sondern die Auftritte sind richtig schön exklusiv. Dazu dann noch Bands wie die Guano Apes, Skunk Anansie oder The Baseballs, die sich dieses Jahr doch eher rar gemacht haben. Aber auch einige "Vieltourer", von denen man allerdings auch nicht genug bekommen kann, wie z.B. die Norweger von Kaizers Orchestra oder die Norwegerinnen von Katzenjammer. =;-)
Insgesamt also ein absolut rundes und spannendes Line-Up, für das man doch gerne den beschwerlichen Weg mitten in die Schweizer Alpen auf sich nimmt!
Das Open Air Gampel findet mitten im Wallis statt. Gampel, ca. zwei Stunden südlich von Bern gelegen, ist ein kleines Örtchen mit vielleicht 2000 Einwohnern – die sich zum Festival dann täglich verzehnfachen. Das viertägige Festival zieht jährlich um die 80.000 Besucher an! Und dieses Jahr läuft der Vorverkauf laut Veranstalterinfos sogar noch besser als sonst, sodass schon drei Wochen vor Festivalbeginn 60% der Tickets verkauft sind.
Alle Infos zum Festival und zu den auftretenden Bands gibt es auf openairgampel.ch. Tickets gibt es bei ticketcorner.ch, für einen Preis zwischen 59 CHF (Tagesticket Sonntag) und 199 CHF (4-Tages-Pass), jeweils plus Gebühren. Sicher nicht billig, aber für das Line-Up definitiv nicht überteuert!